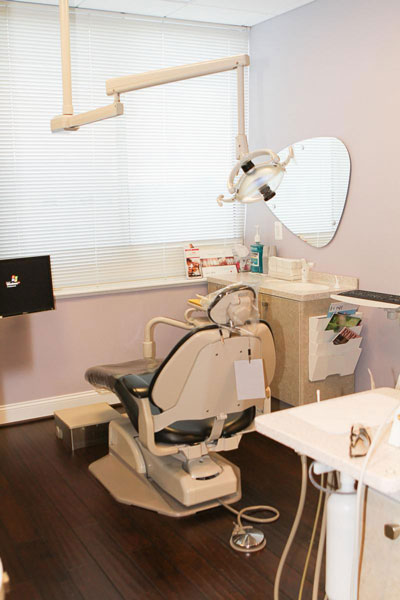 Digital X-ray
Digital x-rays reduce the amount of radiation needed as compared to film x-rays. The improved diagnostic capability of digital x-rays and the ability to view the x-rays on a computer screen allow the patient to better understand and follow treatment. Digital x-rays are instant, so there is no longer a need to develop the film. Digital x-rays save time and increase patient care. It's also a very green technology. By eliminating film, developer and chemical waste, digital x-rays are better for both the patient and the environment!
Digital Tooth Shade Matching
Digital tooth shade matching provides consistent shade matching for restorations, ensuring that the shading of our restorations most closely match our patients' teeth. Standardized measurements of the hue, value and color of the patient's teeth are recorded and then shared with our dental lab to help provide the most accurate information for matching restorations.
Telescopic Loupes
Telescopic loupes are specialized glasses with powerful magnifiers attached that allow Dr. Papageorgiou to get a detailed look at the work he is doing during all phases of treatment, allowing him to work with great precision and to see small details.
Digital Intraoral Cameras
An intraoral camera combines the latest video technologies with dental care. Both the patient and dentist can see detailed images of the teeth and mouth in real time. With an intraoral camera, patients are able to better understand what is happening and review the status of their oral health.
DiagnoDent® Digital Caries Detection
With this latest technology, a UV light detects cavities that are not yet visible to the naked eye. DiagnoDent® enables dentists to practice minimally invasive dentistry by providing a better possibility of diagnosing this disease at an early stage.
VelScope® Oral Cancer Screening
Oral cancer affects thousands of Americans yearly. We use the latest technology to detect changes in oral tissue consistencies and/or lesions. Dr. Papageorgiou shines a UV light into the mouth to detect unhealthy tissue. Healthy tissue looks lighter under the light while spots of bad tissue appear dark. With early detection, cancer may be caught before it has time to spread, potentially saving lives.
Soft Tissue Lasers
Soft tissue lasers are used for periodontal (gum) surgeries. These lasers are more efficient, cause less discomfort, promote a faster healing time, and decrease the risk of infection, providing a better outcome.
Digital Flat Screen Monitors
These television monitors are found next to every patient chair. Patients can watch a movie or TV show. Patients can also view their dental x-rays when speaking to the doctor about the findings for a better understanding of their oral health.
Wi-Fi
Our office offers free Wi-Fi for our patients use while visiting our office.
Automated Appointment Reminders
Our automated appointment reminder will contact you approximately two days prior to your scheduled appointment. After listening to the message, please enter "1" to confirm and "2" to cancel. If no response is recorded, one of our friendly team members will give you a call to follow up. If there is no answer at the number provided, the appointment reminder will leave a voicemail message. It is your responsibility to let us know if you need to cancel and failure to notify the office of a cancellation may result in a charge.
---